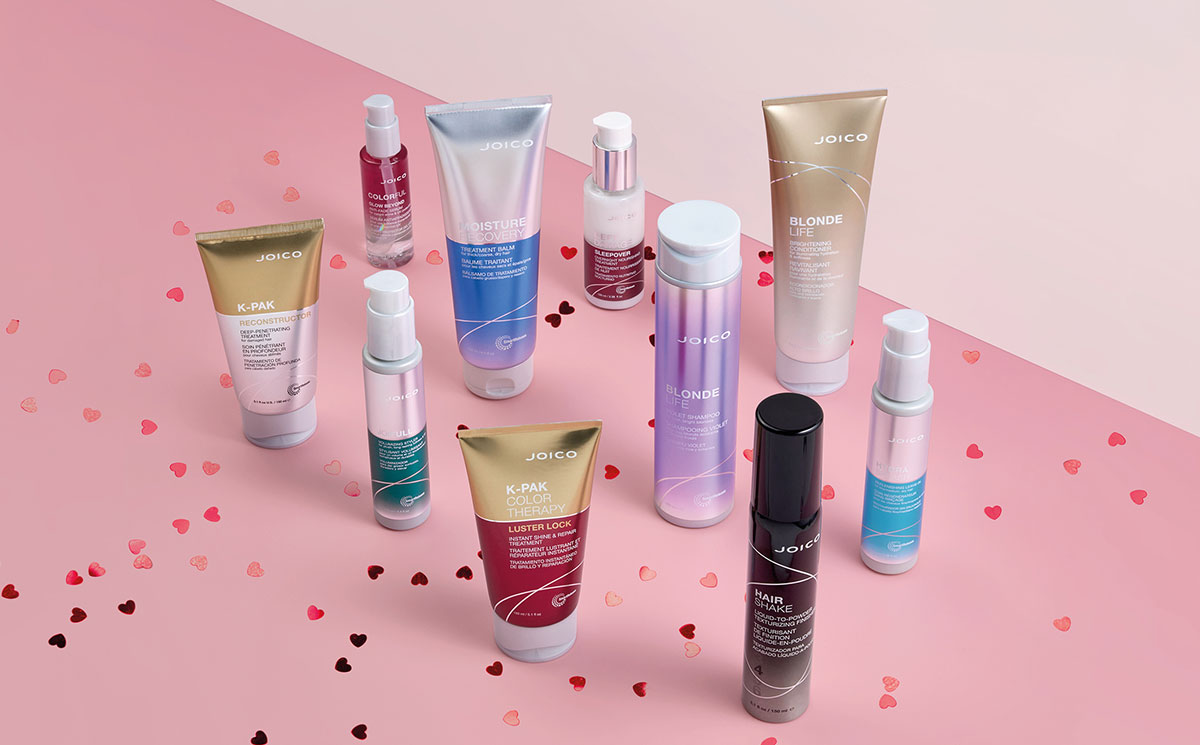 When the topic of love pops up, we can't fail to mention all those countless nights spent sitting on the couch with a messy bun, wrapped in a blanket burrito, while watching cheesy rom-coms. Whether the story is about love at first sight or enemies to lovers, one this is for sure … we're paying close attention to the heroine with the perfect hair!
Hair is much like love in that it's unpredictable (don't we know it!) but there are always a few must-haves you can keep up your sleeve in case of a hair-mergency.
Obligation to Hydration
Here's the deal, hydration might not be a mystery to you but using the right products is key!
HydraSplash – This regimen provides you with lust-worthy hair strands as it leaves your hair hydrated without being heavy! If your hair is fine-to-medium, this is a perfect lightweight solution for you. The 24-hour hydration system includes a Shampoo, Conditioner, Gelée Masque, and a Replenishing Leave-In treatment, or should we say … LOVE-in treatment.
Moisture Recovery – This is the ultimate hair-goal regimen to deeply hydrate your strands for a softer, shinier, and frizz-free look. The secret is the bio-diverse Hydramine Sea Complex™ which provides the ultimate nourishment. And the ultimate savior – Moisture Recovery Treatment Balm, which is packed with sea kelp and all the good oils – it's here to stay and slay!
Color Dullness No More
We know how exciting it is to exit the hair salon with the all-mighty and all-shiny new color. But sometimes this happiness isn't long-lasting due to so many external factors such as pollution, thermal treatment, washing and so on. So how do you eliminate the fade-out color effect? We'll let you in on a little secret…
K-PAK Color Therapy Luster Lock Instant Shine & Repair Treatment – this is the product you'll instantly fall in love with! The color vibrancy and mirror-shine effect are an absolute head-turner. Apply it to clean, damp hair for 2-5 minutes, rinse, dry and style as you wish.
This is a great product, but we must admit that it's not an all-in-one solution… We won't leave you with a cliff-hanger, so here is what you can combine it with:
K-PAK COLOR THERAPY LUSTER LOCK MULTI-PERFECTOR – This leave-in spray is the perfect purse accessory in case you need instant silk effect. It locks in color vibrancy while protecting your beloved hair against thermal damage, UVA/UVB exposure and styling stress. It's hard not to fall in love with it!
K-PAK Color Therapy Luster Lock Instant Shine & Repair Treatment
K-PAK Color therapy luster lock multi-perfector
Cliché Away
Ready to add some pizzazz to your daily hair-care routine and become one of those sassy heartbreakers with the glam hair? Here are some of our favorite styling products.
Hair Shake – This is a great product for drama-filled, voluminous hair. The formula contains bentonite clay, which is perfect for oil absorption, adding a luscious texture to all hair types.
Hair Shake Liquid-to-Powder – JOICO
JOIWHIP Design Foam – now this is the ultimate volumizing foam and it even fights frizz! It works best on damp hair without parching delicate hair. The power duo of moringa oil and volumizing polymer achieve instant smoothness for a Hollywood glam effect.
The takeaway? LOVE starts from within and everything can be a love story with a great attitude … and even greater hair!