Cold weather, dry indoor heat, flattening hats, and more…winter can hit hair hard. But follow our cold-weather booster plan and you'll give your locks (and your looks) the best shot at staying healthy and gorgeous this season. Your plan starts here, pick the prescription to soothe what ails…
BOOSTER SHOT #1: HYDRATE AND MIGHTY
THE CONCERN
Hair that looks dry and dull. Has no movement or manageability.
THE PLAN
Keep hair hydrated with a weekly intense treatment.
THE RX
HydraSplash Gelèe Masque Moisture Recovery Treatment Balm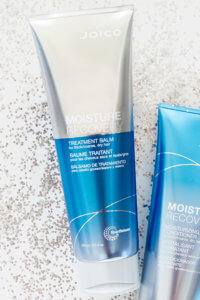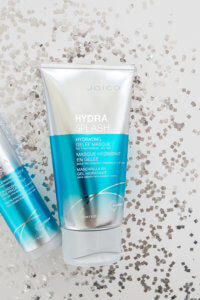 HydraSplash Gelèe Masque
A one-step wonder for fine, dry hair, JOICO's breakthrough HydraSplash Gelèe Masque bathes each strand with lightweight but powerful hydration for a full 24 hours without weighing your delicate hair down. Infused with a hydrating splash of coconut water and nutrient-rich sea kelp to strengthen and protect, you'll get instant detangling, frizz reduction, and thirst-quenching technology that leaves hair shiny, moisturized, and manageable.
Moisture Recovery Treatment Balm
Our mega-moisturizer is the reason you'll never have to put up with dry, frizzy hair again. Specifically designed to overhaul parched, coarse hair — transforming strands in just a single, quick application – Treatment Balm provides deep hydration to thirsty hair, while maximizing strength, and kissing frizz a fond farewell. Known as the "hydration salvation," it delivers a transformative softness and shine.
BOOSTER SHOT #2: The Defy Damage Gift Set
THE CONCERN
Your hair is susceptible to damage, because you're going from overly cold outdoor air to dry, indoor heat; plus, frequently styling hair with thermal tools.
THE PLAN
Use specially targeted products that stand between you and the damage.
THE RX
Defy Damage Gift Set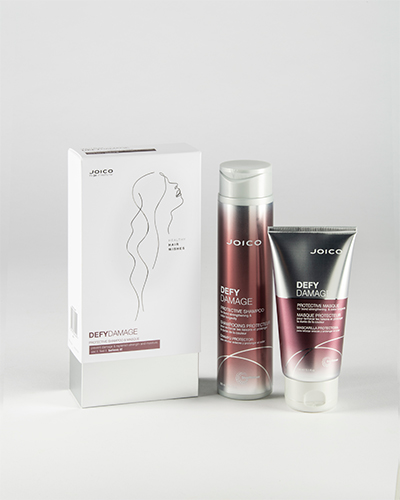 BOOSTER SHOT #3: FIVE FOR FIGHTING
THE CONCERN
You've just invested in gorgeous salon color, and you know it's going to fade if you don't spring into action.
THE PLAN
Lock in color and protect hair just before you flip on the switch to your blow-dryer or flat iron.
THE RX
K-PAK Color Therapy Luster Lock Daily Shine & Protect Spray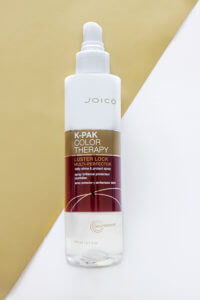 K-PAK Color Therapy Luster Lock Daily Shine & Protect Spray
This "wonder spray for healthy-looking hair every day" is a silky, leave-in treatment that that delivers a powerful shield of protection against styling stress, thermal damage, and UV exposure – all of which can fade your hair color in winter and beyond. The results are remarkable and visible…smooth-as-silk hair that shines like a dream.
BOOSTER SHOT #4: COME ON STRONG
THE CONCERN
Hair can take a beating during winter months – all that dryness causes breakage; and the heat styling leads to color fade.
THE PLAN
Infuse vulnerable strands with all the protection and repair ingredients to give it an instant overhaul.
THE RX
Defy Damage Protective Masque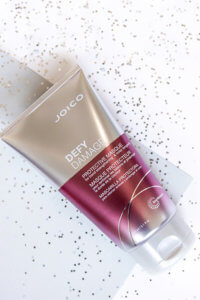 BOOSTER SHOT #5: BIG AND BLONDE
THE CONCERN
When blonde hair – especially highlighted blonde hair – gets dry and beaten down in winter, it starts to look dull, brassy, and warm.
THE PLAN
Pivot to shampoos and conditioners that coddle your blonde hair, amping up brilliance and bypassing brass.
THE RX
Blonde Life Shampoo & Conditioner Blonde Life Violet Shampoo & Conditoner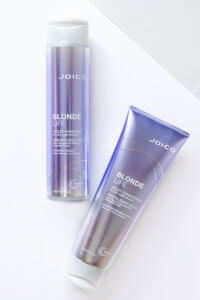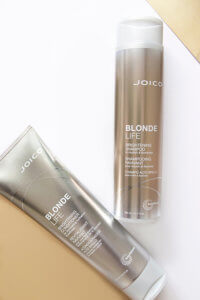 Blonde Life Brightening Shampoo and Conditioner
Never lose your cool again with this brass-neutralizing, sulfate-free cleanser and conditioner that instantly kick those unwanted yellow tones to the curb. With powerful ingredients that fight frizz, add hydration, and take a gentle hand with fragile, highlighted strands, your blonde hair becomes bright, brilliant, and gleamingly gorgeous.
Blonde Life Violet Shampoo and Conditioner
When you want to bring blonde hair back to that icy, fresh-out-of-the-salon shade, turn to this sulfate-free cleanser and conditioner that counteract undesirable brassy tones with a transformative violet-based hue. Gentle on highlighted strands, this unique formula is stocked with powerful ingredients — like an exotic blend of rich Tamanu and Manoi oils – to fight frizz, banish brass, and rehydrate hair.
BOOSTER SHOT #6: DREAM CREAM
THE CONCERN
Let's face it…when the weather outside is frightful, you're indoors blow-drying the heck out of your hair to avoid walking around with damp strands. And that leads to big-time hair stress.
THE PLAN
Put a transformative barrier between you and the assault of thermal stylers.
THE RX
Dream Blowout Thermal Protection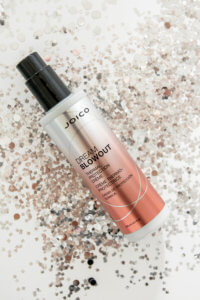 Dream Blowout Thermal Protection Crème
This styler gives you luxurious, salon-style hair, while cutting drying time in half. With Dream Blowout, you'll safeguard strands against the ravaging effects of thermal styling, humidity, frizz, and even damage caused by pollution for a full 24 hours. Elevating the daily drying drudge into something fast and easy, Dream Blowout's super-hydrating, multi-tasking ingredients transform each section of hair as it's being styled; delivering full, shiny, smooth, luxe locks in minutes.
BOOSTER SHOT #7: DON'T BLOW IT
THE CONCERN
Cold air, too-frequent shampoos, and endless styling results in an itchy, flaky scalp and parched hair.
THE PLAN
Figure out a way to cleanse less frequently, but still have bomb-looking Day-Two (Three, Four) hair.
THE RX
Weekend Hair Dry Shampoo