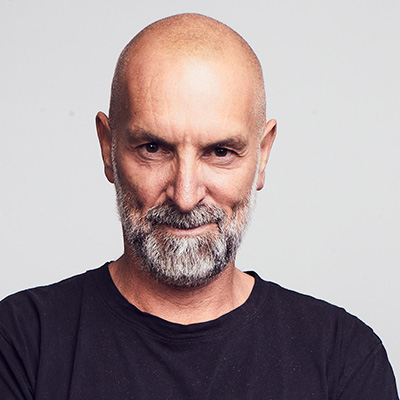 Robby Osselaer
BOBHEAD Creative Director and JOICO EMEA Ambassador
Artistic Credibility

Co-owner of BOBHEAD salon and Training University in Dendermonde, Belgium, with his wife and fellow JOICO EMEA Ambassador, Sofie Schrauwen, Robby is a self-confessed hairdressing obsessive. With over 27 years of experience in the hairdressing industry as a salon owner and educator, Robby's passion for cutting and styling hair is unmatched.

Renowned for their edgy style, Robby Osselaer and Sofie Schrauwen like bending the rules and pushing the boundaries of hairdressing. This is perfectly portrayed in their 2023 Masterpiece

Collection, where they take inspiration from the abstract shapes of Cubism and combine them with 90s trends to create a very distinctive style.
Robbie describes a true masterpiece as "a shiny, fashionable, wearable, commercial look with a lot of texture – simply the whole package."

Working with JOICO

"When I met JOICO I fell in love!" says Robby.

Having worked as the lead trainer for many global brands, Robby's love for the craft has also made him a skilful educator. He enjoys sharing his ideas and techniques with others, inspiring and motivating them to be the best they can be. However, you've got to know the rules, before you bend and break them, so Robby truly believes in mastering the classic and fundamental haircuts first. He feels this enables his students to create any look imaginable. For top-level professionalism with a dash of the unconventional, look no further than Robby!

Stay connected over on Instagram and follow Robby via @robby_bobhead and keep up to date with his latest creations!