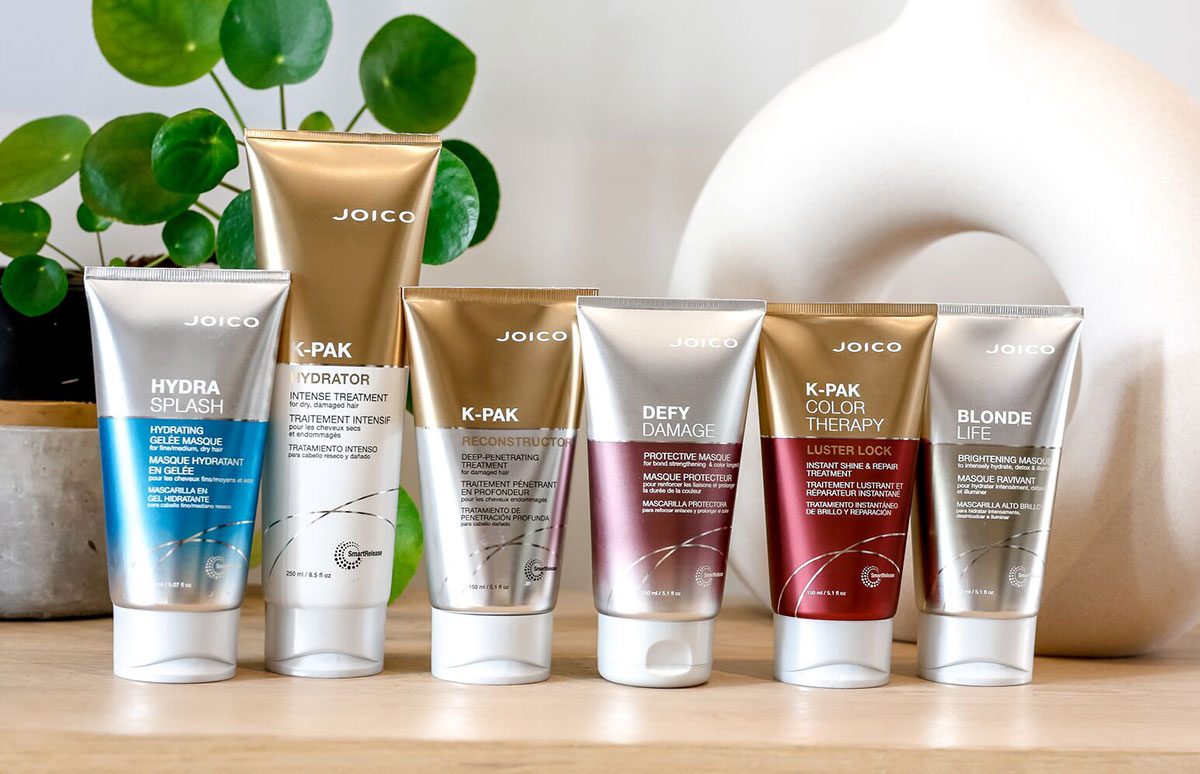 Our haircare regime is as important as our skincare routine. We wouldn't dream of not removing our make-up properly or skipping moisturizing our skin – so why do we not apply the same love to our locks? Like many things in life, prevention is the best option when it comes to hair … which means nourishing products and a solid regimen that is easy to stick to. We're here to help you get into a routine so that your hair doesn't give you the blues or drive you to a buzz cut.   
One piece of advice stylists always share is to use a treatment to ensure your hair is kept in optimum health. JOICO has a treatment or masque to suit every hair type – from coarse hair to fine hair, from blonde hair to multi-colored hair – we have you covered.  
Blonde hair
Blonde hair shimmers and shines, but it can also look dull and lifeless due to over-coloring or excess use of heat appliances. Let Blonde Life step to the fore and bump up the brilliance, strengthen and detoxify brassy blondes. Use Blonde Life Brightening Masque (Blonde Life Masque – JOICO) to add softness and shine, neutralizing chlorine and removing trace minerals to detox hair leaving it polished and bright. If you want to keep your blonde hair looking on point, then Blonde Life (Blonde Life – JOICO) is the perfect range for you.  
Fine Hair
If your hair is finer, you may feel nervous about using a treatment or masque as very often they can weigh hair down and leave it feeling lank and oily. JOICO Hydra Splash Hydrating Gelee Masque (HydraSplash Masque – JOICO) is the perfect treatment for finer hair. Its light-as-air formulation is perfect for fine dry, parched hair. It doesn't weigh hair down and after one use you'll see and feel the difference. Use alongside Hydra Splash Shampoo (HydraSplash Shampoo – JOICO) , Conditioner (HydraSplash Conditioner – JOICO) and Leave-in Conditioner (HydraSplash Leave-in – JOICO) for optimum results.  
Colored Hair
Very often due to external circumstances, colored hair can really look dull and lifeless. JOICO has the perfect solution in K-Pak Color Therapy Luster Lock Instant Shine & Repair Treatment (Luster Lock Treatment – JOICO). With just one use, this deep penetrating product brings colored hair to life, imparting a mirror-like shine. Used as part of the K-Pak Color Therapy regime (K-PAK Color Therapy – JOICO) which also features the fabulous K-Pak Color Therapy Luster Lock Glossing Oil (K-Pak Color Therapy Oil – JOICO) which adds protection and nourishment to hydration-starved locks.