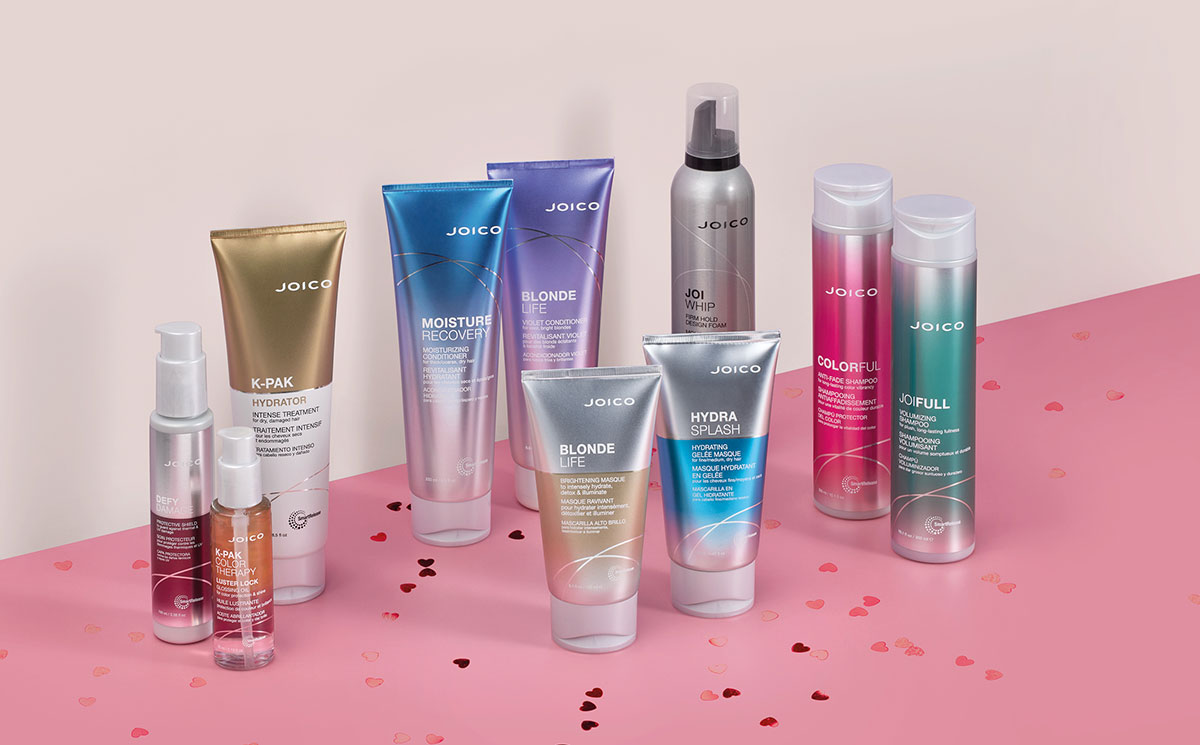 Caring Color Results
For regular color lovers, the question isn't about which color to go for; it's how to keep that color lasting longer and positively glowing with healthy shine. Read on to find out what we recommend for color care.
For the blonde bombshells
When blonde hair is colored properly, it can make you feel unstoppable, but there are two key challenges that come with blonde ambition; one: how to keep it looking healthy and two: how to keep it clean!
Thankfully JOICO has an entire range that addresses both of these blonde hair issues; the JOICO Blonde Life range is essential for at-home upkeep and features Shampoo, Conditioner and a Brightening Masque. Used together, this range will keep hair protected, nourished and, most importantly, it will retain that clean, fresh blonde. What's more, to ensure there's none of those annoying yellow or brassy tones, there's also the JOICO Blonde Life Violet Shampoo and Conditioner duo. Perfect for cool-toned blondes.
Next level step: JOICO Defy Damage Shield is a daily treatment you can use to ensure your ends are kept protected from environmental aggressors. Even if you're indoors, your central heating can damage your hair by drying it out, so a daily application will keep ends healthy and happy.  
For the bold color chameleon
You know who you are! You're a fan of bleach and you love playing with color.  The key to being a color chameleon is keeping hair healthy, hydrated and shiny.  The JOICO Defy Damage range ensures hair is kept in optimum condition without weighing it down. Featuring Shampoo, Conditioner, Masque and a Protective Shield, make this your go-to range and you can keep up your color switching for as long as you like.
Next level step: Add in a weekly conditioning treatment to ensure your hair is as healthy and strong as possible. Try JOICO Defy Damage Sleepover, a bedtime bond strengthener that nourishes hair while you sleep. You can't get easier than that!
Don't just take our word for it, JOICO European Design Team member, Ijan Davies, has the lowdown on why Defy Damage stands out from the crowd. "Self-care is vitally important, not just at specific times of the year, but all the time – it helps us feel good, and it is important that you take the time to care and nurture your locks, allowing them to remain beautiful and full of joi at all times. Take time to develop a hair routine that works for you and your hair type, opting for a hair masque to inject life back into your locks and revitalise your color. JOICO Defy Damage Protective Masque does just that. Not only does it strengthen the bonds of the hair, it helps your color last longer and will deliver that gorgeous salon shine everyone yearns for.
For the chocolate box color lovers
We're talking creamy caramels, honeyed blondes, rich chocolate brunettes and tasty cinnamon shades – all colors that are about looking vibrant, healthy and warm.  JOICO K-Pak Colour Therapy Luster Lock Glossing Oil is a must for adding dimension to deeper shades as well as smoothing any split ends. Because what's the point of coloring your hair if it's looking dull and dry? Super light yet nourishing enough for thicker hair, this is the ultimate hair treat.
Next level step: Another award-winning crowd-pleaser from the JOICO K-Pak range is the Reconstructor – think of it as your hair's Holy Grail. Designed to transform even the most neglected ends and tired strands, K-Pak Reconstructor works by penetrating the hair with a concentrated blend of Keratin, Guajava Fruit Extract and Evening Primrose Oil. Together they repair, strengthen and protect hair from the inside out. Your hair has never looked or felt better – guaranteed.