We were tickled pink to see Joico hit the pages of People Magazine recently, thanks to the handiwork of our very own hair pro, Rick Henry of LA's Nine Zero One Salon, who helped client Katy Perry wrap up the Asian leg of her recent tour with an adorable nod to cherry blossoms. We've got the scoop, the formula, and even the beauty tricks to pull it off.
"I fell in love with so many different cherry blossoms, from Tokyo to South Korea," raved Katy on her Insta page, where the star first unveiled her brand-new pinked-up 'do. (Along with a blinged-out Hello Kitty purse, we might add.) The transformation was surprisingly easy, as Katy had been sporting platinum hair all year, the perfect canvas for Joico Color Butter Pink, a quickie way to add a feminine flush that lasts up to 10 shampoos. This commitment-free hybrid combines fun color and reparative function in one luscious tub — and was a no-brainer when Rick was tasked with commemorating Katy's tour in his own special way. "I used Joico's Pink Color Butter for the whole dye process — it's a very easy color line to use," Rick explained to the editors of PeopleStyle. "Being that she was already blonde, the entire process from start to finish took about 30 minutes."
HOW TO GET PERRY'S CHERRIES…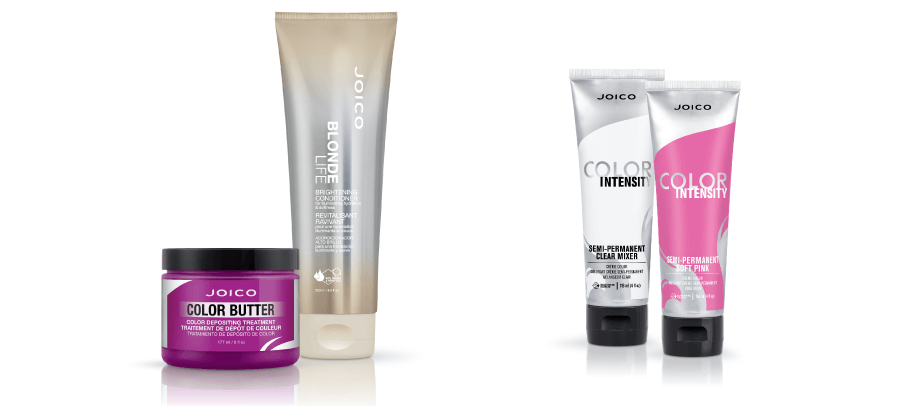 1/4 oz of Joico Color Butter Pink mixed with 2 oz of Joico Blonde Life Conditioner. (Tip: Diluting the product with a healthy conditioner provides a softer pastel result.) Apply to clean wet hair – let it sit for 10 minutes, and rinse.
For longer-lasting color, use Color Intensity Semi-Permanent Color
Conversion Formulation: 1 oz Clear + 1/4 oz Soft Pink.
THE MAKEUP TO BRING OUT THE MAGIC…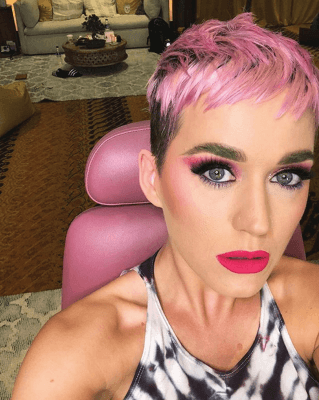 Nothing puts the bloom on rosy hair better than makeup with the punch of pink. You can "kopy" Katy's look with this glowing beauty line-up…
Lips: Covergirl's Katy Kat Matte Lipstick in Magenta Minx
Eyes: NYX Primal Colors Pressed Pigment in Hot Pink
Cheeks: MAC Extra Dimension Blush in Rosy Cheeks
Lashes: Covergirl's Katy Kat Wink False Lashes in Kat Whiskers