K-PAK Reconstructor
Our award-winning Reconstructor—known as The 5-Minute Miracle—has a cult following that's truly unparalleled. A powerful combination of amino acids and Keratin helps rebuild and re-fortify stressed strands, returning hair to its former glory in a single application. No surprise that it's nabbed behindthechair.com's Stylist Choice Awards for "Favorite Damage Repair Product."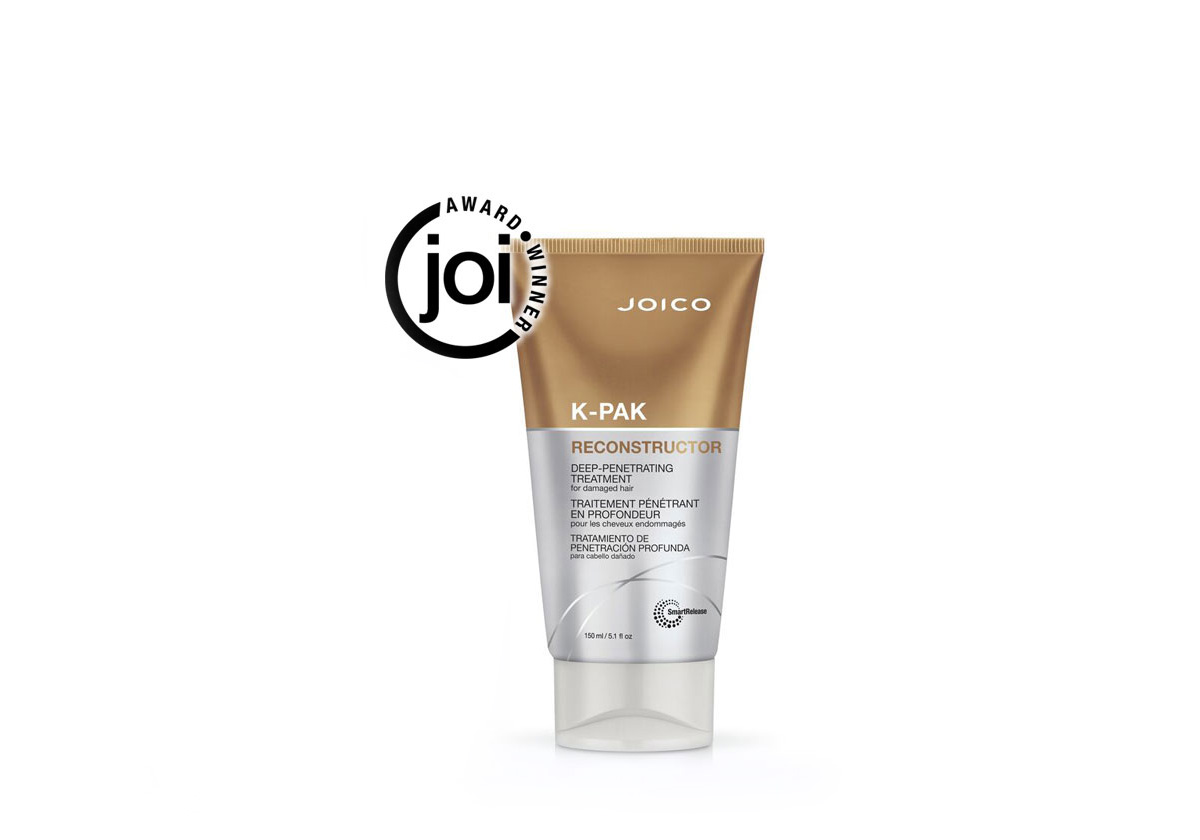 Here's Why You'll Love It
This is it – the holy grail hair hero that started it all for K-PAK! Packed with a powerful combo of amino acids and JOICO's smart keratin technology, this 5-minute treatment rebuilds and strengthens stressed strands to instantly restore hair to its healthy-looking greatness. It's hair reconstruction so targeted, so transformative, it's the fave of millions of stylists—and we have
the awards to prove it.
Rebuilds and fortifies damaged hair
Instantly healthier-looking hair
For a more hydrating slip, follow with K-PAK Hydrator Intense Treatment
Five quick minutes does the trick; but leave Reconstructor on even longer, and you'll repeat additional repair benefits.
Directions: Apply to freshly-washed, towel-dried hair. Leave on 5 minutes. Rinse and continue with the K-Pak Hydrator.


In addition to our own brilliant innovation, SmartRelease Technology, the K-Pak specific key ingredient mix has powerful reconstructive ingredients to help repair and strengthen hair precisely where it needs it.
Keratin – a protective protein which actively seeks out damage and helps repair hair by replacing lost proteins.
Guajava Fruit Extract – Protects hair against damaging free radicals and allows for easier styling. Packed with antioxidants and Lycopene, which are known to help protect hair against UV damage.
Evening Primrose Oil - A rich source of Omega-6 and Gamma-Linolenic Acid, an essential fatty acid that helps nourish hair back to health. Restores shine, flexibility and manageability to hair while balancing moisture levels.
SmartRelease Technology, our one-of-a-kind liposome delivery system, packs a punch - continuously releasing Rosehip Oil, Arginine, and Keratin to help repair, strengthen, and protect hair from the cumulative effects of daily styling.