Shake Series
Texture is everything. But it's not one-size-fits all: Some days, you have a hankering for beachy and wild; the next, you're looking for more restrained volume. The Shake Series has you covered 24/7—with a collection of transformative texturizers that take you wherever you want to go, high or low. Just shake, spray, and go!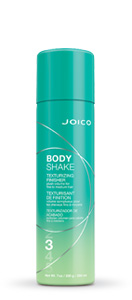 Fine, dry aerosol for fine to medium hair
KEY INGREDIENTS
Powder, resins, and lightweight conditioners
TEXTURE RESULT
The look and feel of abundantly full, naturally thick hair without a trace of powdery residue.
APPLICATION & FINISHED LOOK
Shake, shake, shake and apply all over for instant thickness and body even on the finest hair. This body-building mist absorbs oils, giving roots a boost and plumping up hair with dramatic body and a soft, clean feel.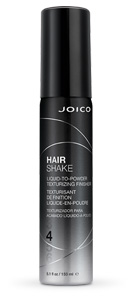 Liquid-to-powder (non-aerosol) texturizing finisher for most hair types
KEY INGREDIENTS
Powder, clay, and silica in a fast-dry liquid base
TEXTURE RESULT
Moldable yet dry texture for separation, definition, and lift.
APPLICATION & FINISHED LOOK
Shake, shake, shake and apply to long or short hair for moldable texture, grip, and volume on all types of layered hair.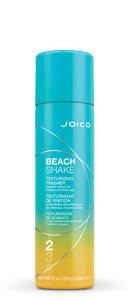 A tactile, fast-drying aerosol for medium to thick hair
KEY INGREDIENTS
Coconut and Sunflower Seed oils combined with beeswax and light resins
TEXTURE RESULT
Satiny sheen with carved-out separation… and not a hint of parched, crunchy strands.

APPLICATION & FINISHED LOOK
Shake, shake, shake and apply lightly, lifting layers and letting the layers fall through mist to carve out satiny separation that mimics a "modern beach look"…all without the salt of traditional beach sprays