DEMI-PERMANENT LIQUID EXTENSION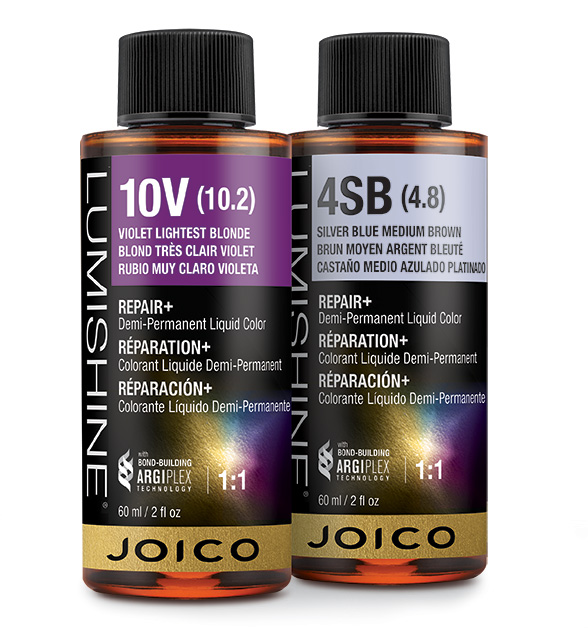 2 NEW LUST-HAVE SHADES
Say goodbye to those "if I only had this color" moments! LumiShine's two new Demi-Permanent Liquid shades are designed to round out your must-have collection with options for blondes & brunettes. The perfect balancing act to build your business AND your creativity.
Why You'll Love It...
Delivers up to 2X the shine*
100% replenished and restrengthened hair**
Ammonia-free, pH-balanced formula
Ideal viscosity for drip-free bottle application
Versatile formula—corrects, glazes, glosses, and blends gray
* vs. untreated damaged hair
** vs. haircolor without ArgiPlex

Now Let's Use It...
No more sacrificing healthy hair for brilliant, rich color. Our one-of-a-kind bond-building ArgiPlex™ Technology fuses the power of three proven, advanced complexes— Arginine, Quadramine® Complex and a Patented Conditioner— to help deliver gorgeous shine and strength in a color palette. Thanks to ArgiPlex Technology, LumiShine's proven formula replenishes hair with Arginine—a naturally occurring amino acid crucial to hair's strength. Exclusive Quadramine Complex helps reconstruct each strand for healthy-looking hair with every single service.
LUMISHINE DEMI-PERMANENT LIQUID COLOR USES:
To refresh faded hair lengths
To glaze or gloss pre-lightened hair
To effectively blend gray on fine hair when no lift of natural base is desired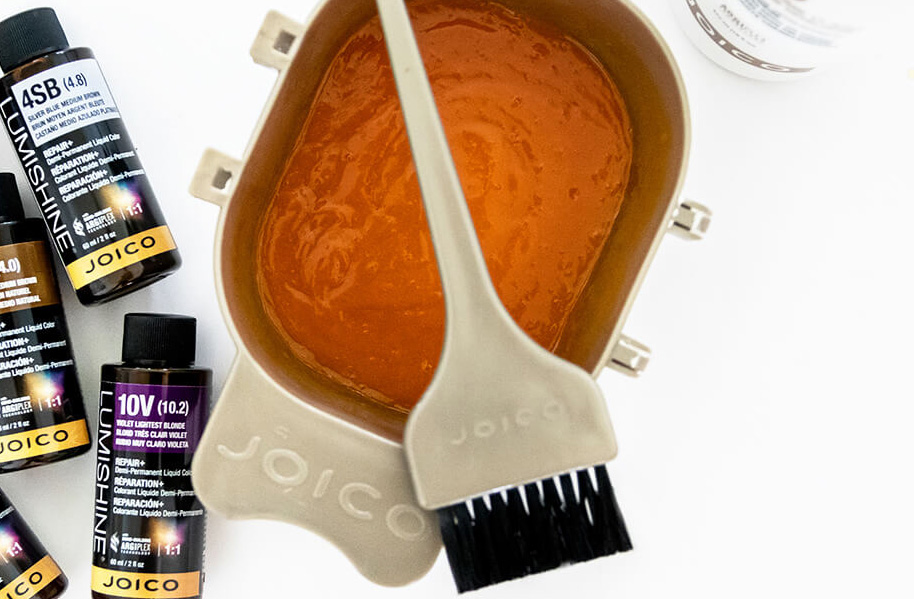 MIXING INSTRUCTIONS:
Mix 1:1 (equal parts color and 5 Volume LumiShine Developer)
Ideal viscosity for drip-free bottle application. Pour developer in a bottle and add color. Place finger over the bottle cap and shake to mix thoroughly.
POST-COLOR SERVICE
Rinse thoroughly. Acidify with K-PAK Professional Cuticle Sealer, rinse. Apply K-PAK Color Therapy Shampoo to scalp and massage well. Work through hair lengths. Rinse thoroughly. Squeeze out excess water. Apply K-PAK Color Therapy Conditioner to hair lengths after squeezing out excess moisture. Massage throughout hair and leave in for 5 minutes. Rinse thoroughly. Towel-dry hair. Style as needed with preferred Joico styling products.