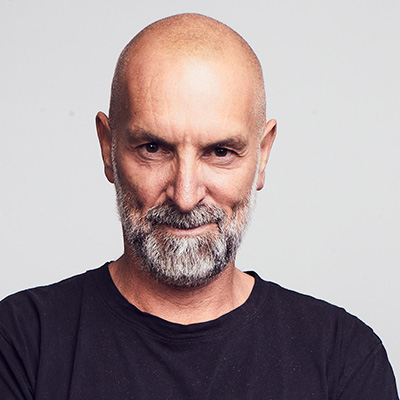 Robby Osselaer
BOBHEAD Creative Director en JOICO EMEA Ambassadeur
Artistieke garantie
Robby runt samen met zijn vrouw en collega JOICO EMEA Ambassador, Sofie Schrauwen, hun BOBHEAD salon en Training university in Dendermonde. Hij verklaart zelf een obesessie te hebben voor het kappersvak. Met meer dan 27jaar ervaring in de kappersbranche als saloneigenaar en docent, is Robby's passie voor het knippen en stylen van haar ongeëvenaard.
Robby Osselaer en Sofie Schrauwen, bekend om hn edgy stijl buigen graag de regels om en verleggen de grenzen van het kappersvak. Dit wordt perfect weergegeven in hun Materpiece Collectie voor 2023, waar ze zich laten inspireren door de abstracte vormen van kubisme en deze combineren met trends uit de jaren 90 om zo een zeer uitgesproken stijl te creëren.
Robby beschrijft een waar meesterwerk als "een stralende, modieuze, draagbare en commerciële look met heel veel textuur – kortom, het hele pakket".
Werken met JOICO
"Toen ik JOICO ontmoette werd ik verliefd!" zegt Robby.
Robby werkte als toonaangevende trainer voor verschillende internationale merken en zijn liefde voor het vak heeft van hem een sterke docent gemaakt.
Hij deelt graag zijn ideeën en technieken met anderen, inspireert en motiveert hen om het beste uit zichzelf te halen. Je moet echter de regels kennen om ze om te kunnen buigen of te breken, dus Robby is ervan overtuigd dat men eerst de fundamentele technieken en klassieke snitten moet beheersen. Dit stelt zijn cursisten in staat om elke denkbare look te creëren. Voor professionaliteit ten top met een vleugje onconventioneel, moet je niet verder kijken dan naar Robby!
Om meer te weten te komen over JOICO, onze portfolio en diensten, ga naar de JOICO website:
www.joico.eu
.  Je kan met de JOICO community ook online verbinden via
@joicoeurope
op Instagram, Facebook en YouTube, of gebruik de
#joicoeurope
hashtag.
follow Robby via
@robby_bobhead
en blijf up to date met zijn laatste creaties!