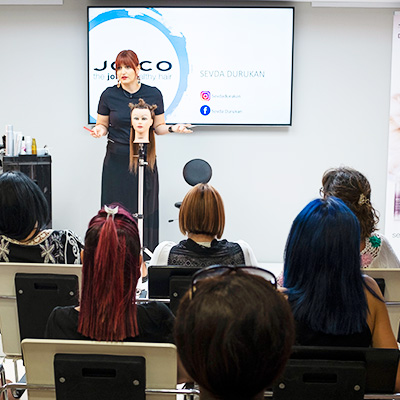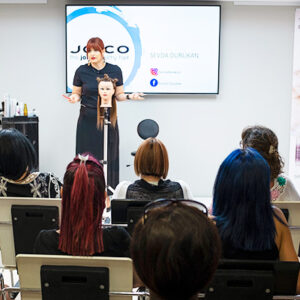 3 days (+ 2 online sessions)
Includes: transportation between hotel and JOICO Experience Center if needed, all printed materials, catered lunch, F&B during training.
Excludes: flight, hotel & airport transportation
September 9 & 10, 2024 (Mandatory online sessions)
November 25-27, 2024 (Live training at JOICO Experience Center, NL)
Are you ready to captivate your audience and leave a lasting impression? During this training, focused on communication & presentation skills, our JOICO educators will take you through the stages of preparing yourself to hold powerful and interactive physical & online presentations. Whether you're a seasoned professional seeking to refine your skills or a beginner looking to conquer stage fright, the training programs are tailored to meet your specific needs. You will learn tips & tricks and will also get to practice presenting in a safe space. You will also receive personal feedback to improve and upscale your performance! Accessible for all distributor team members: marketing, sales & educators can benefit from this training.
What you'll learn:
Improve communication and presentation skills to optimize the professional level and image of the sales consultant or the educator
Enable the participant to adapt his/her approach and interaction with their audience. How to listen, observe and interact
The participant will get familiar with various models and tools
The participant will learn how to prepare and deliver a strong core message, how to use mind-mapping and brainstorming effectively
The art of preparation
Body language and verbal communication
Brainstorming
How your brain works
Mindmapping
Structuring a presentation
A great opening and closure
*Distributors: all training formats can be requested in the field, locally. Please contact us for the terms and conditions.