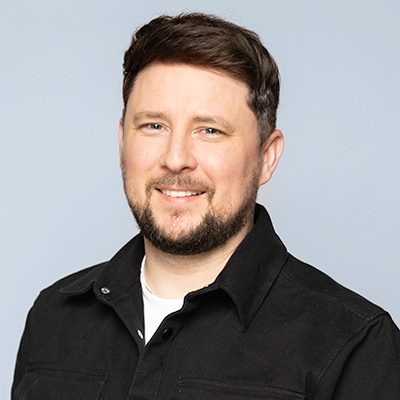 Paul Watts
Senior Creative Color Artist JOICO EMEA
Artistic Credibility

Paul's passion for hairdressing is split between running and working within his own salon group, educating others and taking the world of digital education by storm. Each year his goal is to set new standards and raise the bar in everything he does.

Achieving 30+ awards over the last decade, Paul continues to operate creatively at the top of his game. Some of the highlights of his career are consecutive wins at the Lux Awards, including 'Most Creative Salon' in 2021. One of his latest accomplishments is winning the 'Colour Communicator Genius' category at the Colour World Genius Awards 2023 and being nominated for 'Social Stylist of the Year' at the British Hairdressing Business Awards 2023. Paul's style of work is technically on point and always bang on-trend, specializing in lifestyle and lived-in color techniques.

"I often look outside the industry for inspiration which encourages me to try new things and explore
the unknown. I believe in ongoing education and, on a personal level, regularly update my skills
by attending courses and learning from my JOICO colleagues," adds Paul.

Business Credentials

Renowned for his business acumen as an award-winning entrepreneur, Paul opened 6 salons over an 8-year period and now runs a successful salon, Paul Watts Hair, in Kettering.

An early adopter of social media in all its guises, Paul uses his channels to collaborate, educate and inspire. His digital trainings now reach an audience of over 100k YouTube subscribers who regularly tune in to his tutorials.

Working with JOICO

A Color Specialist within the JOICO EMEA Senior Creative Artist Team, Paul lives his life in color. As the owner of a successful salon and an experienced educator, Paul is an expert communicator with both his team and his students. With an infectious personality and the ability to get on with everyone, Paul has traveled the world educating others because he truly believes in giving back and sharing his skills. An advocate for well-being and mindfulness, Paul's approach to education is nurturing, ensuring he gets the best out of everyone.

Paul comments, "I really am the luckiest person in the world, I get to do what I love every day, with people around me who inspire and motivate me. I work with a team of incredibly talented people and their love for the industry is what makes it all possible"

Stay connected over on Instagram and follow Paul via @paulwattshair to keep up to date with his creative work!