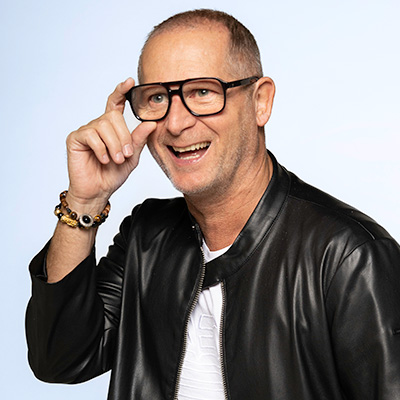 Bruno Marc Giamattei
Creative Director JOICO EMEA and Creative Director Marc Antoni Art Team
Artistic Credibility

Bruno's greatest achievements include winning multiple British Hairdressing Awards; 3 times winner of the 'Southern Hairdresser of the Year' and 2 times winner of the 'Art Team of the Year'. This feat earned him a place in the British Hairdressing Hall of Fame. Not surprisingly, he also won the award for the 'British Fellowship Hairdresser of the Year' and is an active member of the organization, both on stage and behind the scenes as President 2015-2017 and ambassador.

Bruno is the leader of the renowned Marc Antoni Artistic Team – a creative tour de force! The inspirational images within the Marc Antoni collections have been featured countless times on the covers of leading British and international trade magazines. The team is invited around the globe to do hair shows, including the prestigious 'Alternative Hair Show' in London.

Business Credentials

Alongside the awards and creative achievements, Bruno is also regarded as the commercial driving force behind the Marc Antoni Group, having grown the family-owned salon to a successful salon chain with loyal clients. His recipe for success, combined with the creative reputation of the Marc Antoni team, makes his salons a magnet for young talent that he and his team coach and mentor to become highly skilled craftsmen – including hairdressing artists like Daniel Spiller, who recently won the 'British Hair Colour Technician of the Year 2022' at the British Hairdressing Awards.

Working with JOICO

As JOICO European Creative Director, Bruno leads the JOICO European Artistic Team in fostering both commercial and creative success. The way he shares his skills and knowledge, hairdresser to hairdresser, is easy to understand as he wants to ensure that his audience always gets the most from any show or seminar they attend. By putting the learner first, he focuses on inspiring hairdressing confidence and encouraging self-belief.

Now, a true master of his craft, Bruno is passionate and highly motivated about what he does, "I love my job, every day is different, and I love the variety of the work I produce…I consider myself to be an all-rounder and I believe in continual education – you can never stop learning!"

Stay connected over on Instagram with the Marc Antoni group via @marc_antoni_joico and follow Bruno via @brunomarc10 to keep up to date with his latest creations!