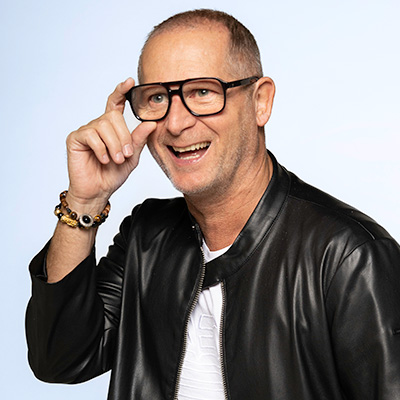 Bruno Marc Giamattei
Creative Director JOICO EMEA e Creative Director Marc Antoni Art Team
Profilo dell'Artista

I più grandi successi di Bruno includono la vittoria di numerosi British Hairdressing Awards; è stato 3 volte vincitore del "Southern Hairdresser of the Year" e 2 volte vincitore dell'"Art Team of the Year". Questa impresa gli è valsa un posto nella British Hairdressing Hall of Fame. Non a caso, ha anche vinto il premio per il "British Fellowship Hairdresser of the Year" ed è un membro attivo dell'organizzazione, attivo sia sul palco che dietro le quinte in qualità di Presidente 2015-2017 e ambassador.

Bruno è il leader del rinomato Marc Antoni Art Team – una vera squadra di creativi! Le immagini aspirazionali all'interno delle collezioni del Marc Antoni Art Team sono state protagoniste innumerevoli volte delle copertine delle principali riviste britanniche e internazionali. Il team è invitato in tutto il mondo a presenziare manifestazioni, tra cui il prestigioso "Alternative Hair Show" a Londra.

Business Credentials

Oltre ai premi e ai risultati creativi, Bruno è anche considerato la forza commerciale trainante del Gruppo Marc Antoni, avendo contribuito all'evoluzione del salone di proprietà familiare in una catena di saloni di successo con un'affezionata clientela. La sua ricetta per il successo, unita alla reputazione creativa del team Marc Antoni Art Team, rendono i suoi saloni una calamita per i giovani talenti che insieme al mentore del suo team formano per diventare parrucchieri altamente qualificati. Tra i nomi degli studenti più qualificati ricordiamo l'artista dell'acconciatura Daniel Spiller, che ha recentemente vinto il ' British Hair Color Technician of the Year 2022' ai British Hairdressing Awards.

Lavorare con JOICO

In qualità di Creative Director JOICO EMEA, Bruno è alla guida del JOICO EMEA Artist Team  con il quale promuove successi commerciali e artistici. L'approccio che viene utilizzato per trasmettere la sua competenza e maestria è semplice, da parrucchiere a parrucchiere, in modo che il pubblico possa sempre trarre il maggior numero di insegnamenti da qualsiasi show o seminario. Ponendo lo studente al primo posto, Bruno si concentra sull'ispirare la fiducia dei parrucchieri, incoraggiandoli a credere in sé stessi.

Come un vero maestro del suo mestiere, Bruno è appassionato ed estremamente motivato in quello che fa.

"Amo il mio lavoro, ogni giorno è diverso e amo la varietà del risultato finale... Mi considero un tuttofare e credo nella formazione continua - non si può mai smettere di imparare!"

Per sapere di più sul portfolio ed i serivzi di JOICO, visitare il sito di JOICO: www.joico.eu. Puoi anche connetterti con la community online di Joico @joicoeurope su Instagram, Facebook, e YouTube, o usare l'hashtag #joicoeurope.

Resta connesso su Instagram e segui il Marc Antoni Group su @marc_antoni_joico e Bruno @brunomarc10 per aggiornamenti sulle sue ultime creazioni!