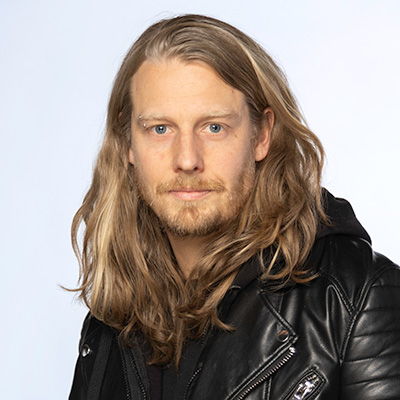 Dan Spiller
Marc Antoni Color Expert, Art Director Marc Antoni Fleet Salon, e JOICO EMEA Ambassador
Profilo dell'Artista

Entrato a far parte del gruppo Marc Antoni all'età di 16 anni, Dan ha trascorso gli ultimi 20 anni affinando la sua arte e sviluppando le sue abilità tecniche e creative nel colore. Descrivendo il suo lavoro come "splendidamente grafico", divide il suo tempo tra il salone, lo studio fotografico e le sale dei seminari.

Premiato come "Newcomer of the Year" nel 2010 ai British Hairdressing Awards, Dan si è affermato fin dall'inizio della sua carriera come come un forte concorrente del settore carriera. Da allora ha vinto il prestigioso titolo di "British Color Technician of the Year" nel 2022 con la sua bellissima collezione "Crown of Virtues", una meritata vittoria dopo aver raggiunto le finali nel 2015 e nel 2019.

Inoltre, come parte del Marc Antoni Art Team, ha ricevuto numerosi premi nazionali e internazionali, tra cui due volte l'"Art Team of the Year", il "Visionary Award" e il "Young Talent Award".

Dan si impegna a continuare la sua carriera di successo, e aggiunge "Ci sono così tante cose che voglio fare e realizzare. Voglio continuare a crescere e imparare come individuo e come insegnante e mi piacerebbe far parte del Marc Antoni Art Team che vincerà il terzo premio Artistic Team of the Year!"

Lavorare con JOICO

Come parte del JOICO EMEA Artist Team, Dan è un insegnante creativo e un grande ispiratore. Talentuoso nel taglio, nello styling e nella colorazione, il suo metodo di insegnamento è informativo, divertente e interattivo - pensando sempre al colore e a come può migliorare il suo lavoro e il mondo. In qualità di rinomato leader di tendenza che crea e apprende costantemente nuove tecniche, Dan incoraggia sempre i suoi studenti a pensare al quadro generale; come un taglio e un colore si completeranno a vicenda per creare un look che trascende l'ordinario fino allo straordinario!

"Amo sperimentare con le colorazioni JOICO, so che avrò risultati eccezionali ogni volta. Quando insegno, gli studenti sono affascinati dai risultati che posso ottenere utilizzando Blonde Life, dai toni tenui che ottengo utilizzando LumiShine o dalla profondità e vivacità di Vero K-Pak", afferma Dan. "Il portfolio JOICO fornisce a me e a ogni Color Technician tutto ciò di cui abbiamo bisogno per creare la miglior palette di colori così come capelli sani, luminosi e splendenti."

Per sapere di più sul portfolio ed i servizi di JOICO, visitare il sito di JOICO: www.joico.eu. Puoi anche connetterti con la community online di Joico @joicoeurope su Instagram, Facebook, e YouTube, o usare l'hashtag #joicoeurope.

Resta connesso su Instagram e segui la pagina Marc Antoni Group su @marc_antoni_joico e Dan su @danspiller2010 per aggiornamenti sulle sue ultime creazioni!