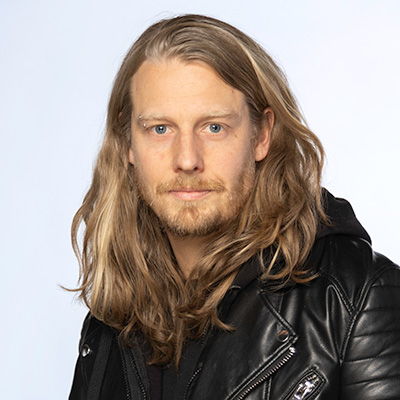 Dan Spiller
Marc Antoni Color Expert / Art Director Marc Antoni Fleet Salon
Artistic Credibility

Joining the Marc Antoni group at the age of 16, Dan has spent the last 20 years honing his craft and developing his technical and creative color skills. Describing his work as "beautifully graphic", he splits his time between the salon, photography studio and seminar rooms.

Awarded the 'Newcomer of the Year' in 2010 at the British Hairdressing Awards, Dan established himself as a strong contender within the industry early in his career. He has since gone on to win the prestigious title of 'British Colour Technician of the Year' in 2022 with his beautiful collection 'Crown of Virtues', a well-deserved win after reaching the finals in 2015 and 2019.

Additionally, as part of the Marc Antoni Artistic Team he has been awarded several national and international prizes, which include the 'Art Team of the Year' twice, the 'Visionary Award', and the 'Young Talent Award'.

Dan is committed to continuing his successful career, adding "I have so much I want to do and achieve. I want to continue to grow and learn as an individual and as an educator and I'd love to be part of the Marc Antoni Artistic Team that wins their third Artistic Team of the Year award!"

Working with JOICO

As part of the JOICO European Artistic Team, Dan is an inspirational creative educator. Talented in cutting, styling and coloring, Dan's style of education is informative, fun and interactive – always thinking about color and how it can enhance his work and the world. As a renowned trend leader who's constantly creating and learning new techniques, Dan always encourages his students to think of the big picture; how a cut and color will complement each other to create a look that transcends the ordinary to the extraordinary!

"I love to experiment with JOICO color, I know I'm going to have exceptional results each time. When I'm teaching, students are in awe of the lift I can achieve using Blonde Life, the soft tones I achieve using LumiShine, or the depth and vibrancy of Vero K-Pak," says Dan. "The portfolio provides me and every Color Technician with everything we need to create the most beautiful color palette as well as healthy, glistening, and shiny hair."

Stay connected over on Instagram with the Marc Antoni group via @marc_antoni_joico and follow Dan via @danspiller2010 to keep up to date with his creative work!