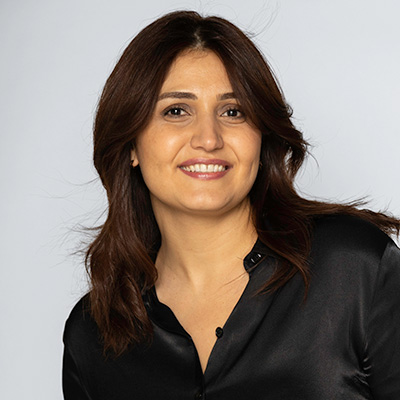 Sevda Durukan
Senior Creative Color Artist JOICO EMEA Team Member
Profilo dell'Artista

Con sede in Belgio, la pluripremiata Sevda è una tripla minaccia! Non solo è un'abile colorista, ma Sevda è anche un'esperta in taglio e piega. Il suo lavoro fotografico è stato pubblicato con successo internazionale, inclusi tre servizi di copertina su Estetica Magazine. Lo stile di Sevda è sofisticato, femminile e con un tocco editoriale. I suoi riconoscimenti vanno dal "Newcomer of the Year", al "Colorist of the Year" fino all'ambito "Hairdresser of the Year" ai Belgium Hairdressing Awards nel 2019.

Influenzata dall'arte moderna e da tecniche di acconciatura non convenzionali, è GRANDIOSA nel creare forme diverse che evocano forza e potenza. Sevda commenta: "Adoro lavorare con nuove combinazioni di colori, provare nuovi modi di acconciare, tentare strade alternative per ottenere i migliori risultati".

Nel suo salone, Studio by Sevda, è rinomata per le trasformazioni dei capelli; i clienti arrivano da ogni parte del mondo per ricevere un restyling che non solo abbia un bell'aspetto, ma li renda davvero sicuri di sé. Per Sevda, l'acconciatura consiste nel creare stili indossabili con colori vivaci che esprimano la personalità del cliente.



Il lavoro con JOICO

Come insegnante, Sevda commenta "Parlo una lingua che i parrucchieri capiscono e insegno loro tecniche commerciali che possono essere utilizzate in salone sui loro clienti". Sottolinea inoltre l'importanza di avere una solida base di conoscenza dell'acconciatura per lo styling artistico, "Amo l'acconciatura creativa, ma credo sia importante dare ai miei studenti una comprensione delle basi prima di affrontare il lavoro creativo".

Per saperne di più sul portfolio ed i servizi di JOICO, potete consultare il sito: www.joico.eu/it.  È anche possibile restare in contatto con la community online, tramite i profili @joicoeurope su Instagram, Facebook, e YouTube, o usare l'hashtag #joicoeurope.

Resta connesso su Instagram e segui Sevda su @sevdadurukan per aggiornamenti sulle sue ultime creazioni!