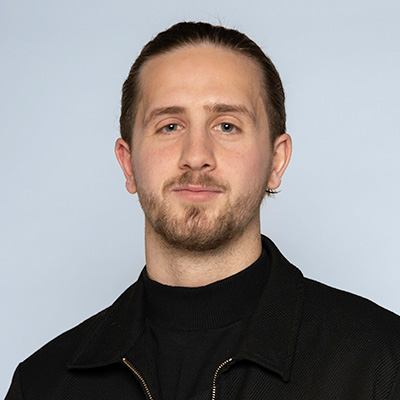 Paolo Giamattei
Marc Antoni Creative member e JOICO EMEA Ambassador
Profilo dell'Artista

Paolo ha la vena dello stylist. Come parrucchiere di terza generazione, ha seguito le orme di suo padre Aaron Giamattei e di suo nonno Bruno Giamattei, che hanno fondato il Marc Antoni Salon Group quasi 60 anni fa, nel 1966. Suo zio Bruno Giamattei è anche JOICO EMEA Creative Director.

Dal 2018 Paolo Giamattei è il nuovo membro del Marc Antoni Art Team. Con sede a Fleet presso il salone Marc Antoni insieme al collega Dan Spiller, membro del Marc Antoni Art Team e vincitore del British Hairdressing Awards come 'Colour Technician of the Year' 2022, Paolo ha una clientela consolidata e fedele.

Sebbene sia il membro più giovane del team, ha già lavorato a una varietà di servizi fotografici ed è stato recentemente presentato al Salon International con grande successo. Avendo ottenuto un meritato posto come uno dei finalisti per "Newcomer of the Year" 2022 ai British Hairdressing Awards con la sua Kalos Collection, è sicuramente una personalità da tenere d'occhio!

Il lavoro con JOICO

Come membro del JOICO EMEA Artist Team, Paolo è una stella nascente: il suo obiettivo è quello di condividere le conoscenze apprese, integrando le proprie qualifiche con corsi esterni e ispirando la nuova generazione di parrucchieri.

Paolo ha commentato: "Fare il parrucchiere è la mia passione, amo il modo in cui puoi trasformare completamente qualcuno, non solo facendolo sentire bene con se stesso, ma anche facendolo apparire davvero fantastico. Il mio obiettivo come insegnante è condividere le mie capacità, la mia passione e la mia guida con gli altri. Non vedo l'ora!"

Per saperne di più sul portfolio ed i servizi di JOICO, potete consultare il sito: www.joico.eu/it.  È anche possibile restare in contatto con la community online, tramite i profili @joicoeurope su Instagram, Facebook, e YouTube, o usare l'hashtag #joicoeurope.

Resta connesso su Instagram e segui la pagina @marc_antoni_joic e Paolo su @paologiamattei per aggiornamenti sulle sue ultime creazioni!