SPOTLIGHT ON: RICARDO SANTIAGO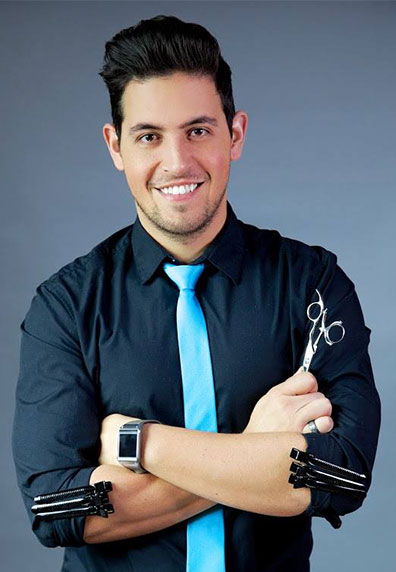 Just when you thought couldn't wait one more minute (we hope), we're back with another revealing, behind-the-scenes superstar hair chat. Our mission is to get up close and personal with the best of the best in the industry; and today, it's a conversation with Joico International Guest Artist, Ricardo Santiago, whose wildly popular Instagram page is bursting with brilliant Balayage and color work–looks that push the bounds of creativity. Look, learn, and listen right here…
RICARDO SANTIAGO, Joico Educator, Hermosillo, Orlando, FL
Bragging rights: I've been blessed to be featured on social media in every major industry, as well as in publications like American Salon, Modern Salon, Behind The Chair, Estetica, Bangstyle, HotonBeauty, BeautyLaunchPad, and even Cosmoprof and SalonCentric.
On my nightstand: My journal, a Batman figure, and a lamp, lol. I'm not that invested in my nightstand, as you can see.
I'll cry if I'm out of: Cereal and milk! I pretty much live on the stuff. Doesn't matter what kind…I just love cereal and milk!
What I'm eating when no one's looking: I'll eat pretty much anything that's deep fried, whether someone's watching or not.
If anyone could dress me: It's a toss up between a Hugo Boss, Gucci, or an Armani suit. I really love a nicely made, fitted suit!
What's on my feet: Right now? Sad to say, my orthopedic shoes from The Walking Company. I've had a bad back for a long time and these things make all the difference in the world. Not fashionable at all, but very comfortable!
Can't live without: My wife.
My influencers: Vidal Sassoon, of course. But also, Jim Markham, Phillip Wilson, Sue Pemberton, my first salon boss/owner Richard Day from John Carl Salon, and my teachers from hair school.
Guiltiest pleasure: Treating my days off (very rare) like a ten-year-old on Saturday mornings. I love to sit with a bowl of cereal and watch cartoons ALL day!
Biggest misconception about hairdressers: That we aren't intelligent or professional. I hate when I hear things like that, because many of us have had to work even harder to break a stereotype that shouldn't exist in the first place.
Why hair?: Why not? It's constantly evolving and impossible to get bored with. I've tried A LOT of different jobs and careers in my short life, and this is the only thing I've ever done where I'm constantly challenged with no max-out position.
If not hair: I'd probably try for politics again since I can't go back to the military.
What I'm known best for: Probably my work with the Joico Intensity colors and my Balayage work. (Although I secretly have a big passion for barbering as well.)
Oddest job: Not sure if it would be considered odd, but I get the most "really?" reactions when I tell people I once worked at an animal hospital.
The look I never want to see again: Mullets!
What's been your most joi-ful professional hair moment? The day I was asked to be on stage representing Joico at the Behind the Chair Color show.
This hairstyle/color will never bore me: A classic Sassoon bob. It's absolutely timeless.
Best advice ever: "Know your worth, and don't sell yourself short, we are almost always worth more than we think we are." –Richard Day
"I've made it" moment: Two moments, actually. Working the Alice & Olivia fashion show, and sharing a stage with Sue Pemberton.
What's playing in my salon: Either top hits on Apple Music or Pandora…or HGTV.
Tool/product I'm always reaching for: My Olivia Garden Ceramic 55 round brush, and Joico Heat Set. Can't use one without the other!
CHROMA CHAMELEON STEP-BY-STEP BY RICARDO SANTIAGO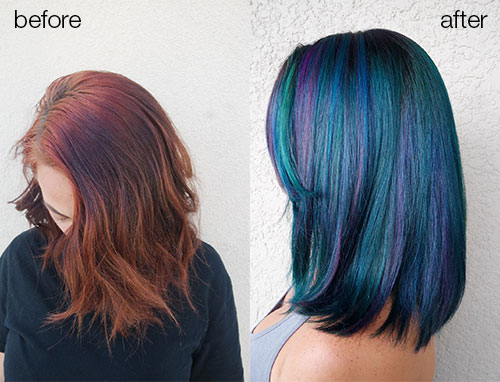 Formulas:
1. Joico Vero K-PAK Color 3N and 10 volume
2. 2 parts Color Intensity Magenta, 1 part Color Intensity Indigo
3. Color Intensity Peacock Green
4. Color Intensity Cobalt Blue
Pre-lighten model to a level 8 using Joico Vero K-PAK Crème Lightener, and balance tones close to natural as best as possible, but do not work too hard to have perfect balance. Imperfections help to create dimension!
Once desired level is achieved start by applying Formula 1 to base, beginning at the nape and working in diagonal slices, and extend 2-3 inches.
After Formula 1 has been applied to entire base, divide hair into 4 quadrants.
1.Beginning in base of rear quadrant, take a diagonal forward slice and apply Formula 2 from stretched root to ends, and work up the quadrant in the same diagonal slices.
2.Alternate from Formula 2 to Formula 3 and Formula 4 applying each formula 2 slices at a time.
3.Repeat steps 4 and 5 through all quadrants.
4.Process for 35 minutes and rinse.