SPOTLIGHT ON: NATANI LAAS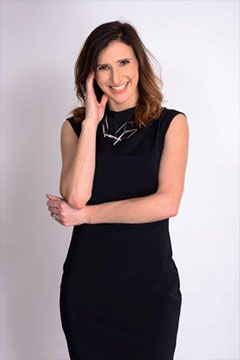 There are some really good reasons this sought-after Hong Kong-based hairdresser is making a name for herself in the far reaches of the world (and it's not just because she's worked on three different continents over the course of her career). Natani Laas spends her days doing everything from teaching, to working on photo shoots, seeing clients, and making appearances at international education events. And she does it all with her "unassuming nature" and ace expertise that makes her an industry darling. Get to know Natani better…
NATANI LAAS, Joico International Guest Artist, Hong Kong
Bragging rights: I've lived and worked on 3 continents.
On my nightstand: A 35-year-old teddy bear and whatever book I'm currently reading.
I'll cry if I'm out of: Hair Shake…and an aisle seat on the airplane.
What I'm eating when no one's looking: A whole bag of M&S Fruit Gums.
If anyone could dress me: Victoria Beckham for everyday wear; Alexander McQueen for everything else.
What's on my feet: A pair of red Converse sneakers.
Can't live without: Hair Shake!
My influencers: Vidal Sassoon, my colleagues, Gianni Scumaci, and anyone who works hard to achieve their goal.
Guiltiest pleasure: Long hikes with my husband…leaving the world behind for a few hours.
Biggest misconception about hairdressers: That we love doing friends' and family's hair on our day off.
Why hair?: It provides instant gratification.
What I'm known best for: Handling difficult clients. ?
Oddest job: I did face painting in Qatar at their first-ever Winter Carnival. (But I was constantly asked to pose for photos with my then-bleach-blonde curly hair, and so I didn't actually get to do much painting.)
The look I never want to see again: The "Rachel" haircut from Friends.
This hairstyle/color will never bore me: Free-hand painting.
Best advice ever: "If you don't' like where you are in life, change it; you are not a tree."
"I've made it" moment: The first time I had a referral.
What's playing in my salon: Various Spotify playlists.
Tool/product I'm always reaching for: Hair Shake and Color Therapy Oil.
My most joi-ful professional hair moment: Becoming an International Guest Artist for Joico. It still is. ?
Formula: Pink & Grey Color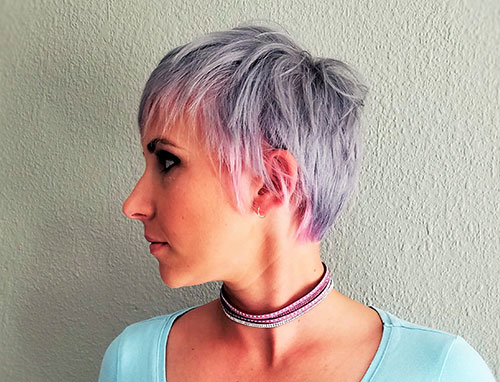 Model has natural level 5 hair, prelightened twice with Joico VeroLight Crème Lightener and Vero K-PAK Color 10 Volume Developer to lift to a level 9 pale yellow.
Pink Formula: Color Intensity Rose and Clear.
Silver formula: LumiShine® XLAA+ LumiShine 10NV+ LumiShine 10 Volume Developer Two single foils was placed horizontally in front of the ear with the silver formula.