SPOTLIGHT ON: MELISSA DUGUAY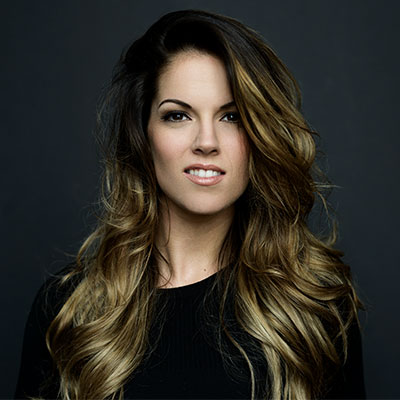 You know how one person's enthusiasm can get a whole team revved up? Or that moment when you grab an expectedly brilliant tip from a colleague? That's the kind of sharing that makes our industry a treasure trove of inspiration, and we're going to pay it forward every month with Joico Muse… an up-close-and-personal chat with Joico Artists around the globe. Starting right here, right now…
MELISSA DUGUAY, Joico Platform Artist, Moncton NB, Canada
Bragging rights: I currently have three Mirror Awards from Canadian Hairdresser Magazine, and one Contessa Award from Salon Magazine under my belt. I've also been a finalist in the Master Colourist category for the past 2 years!
On my nightstand: My phone, of course!
I'll cry if I'm out of: It's a toss-up between Joico Flip Turn Volumizing Finishing Spray…and Nutella!
What I'm eating when no one's looking: No big surprise after the Nutella comment… it's chocolate. But I would still eat it when you're looking!
If anyone could dress me: Marciano has awesome dresses, but my heart lies with – wait for it – lululemon.
What's on my feet: Converse. After all, I am a hairdresser! But I will go with heels on a good day.
Can't live without: Coffee.
My influencers: Aside from the obvious–Vivienne Mackinder, Sue Pemberton, and Martin Hillier—I'm also really inspired by my teammates at Joico. I work with such an amazing group of super-talented people, and I learn something new every time I'm with those guys!!!
Moment of joi: My most joi-ful professional hair moment, I would have to say, is every time I get to do a photo shoot. That experience always pushes me to step out the box with a very creative mind.
Guiltiest pleasure: Awwwww…The Bachelorette. There, I said it!
Biggest misconception about hairdressers: The good old, "She's just a hairdresser." I don't think people understand the depth of our industry.
What I'm known best for: My photo-shoot creations.
Oddest job: Pumping gas at a gas station. Gotta start somewhere!
If not hair: Most likely, photography.
The look I never want to see again: Truthfully, every style can be interesting when it gets a different twist, so never say never.
This hairstyle/color will never bore me: Bold, bright colors.
Best advice ever: Dream so big that it scares you a little!
"I've made it" moment: Accepting my awards on the Contessa and Mirror Award stages.
What's playing in my salon: A little bit of everything.
Tool/product I'm always reaching for: Heat Set, Flip Turn, and Hair Shake.
Why hair: It has always been a passion. I realized at a young age that this is what I wanted to do. Lucky for me, I got to see along the way that it is even more fulfilling than I ever expected. We are part of a wonderful industry of creative minds and amazing people. What's not to love?
Technique By Melissa Duguay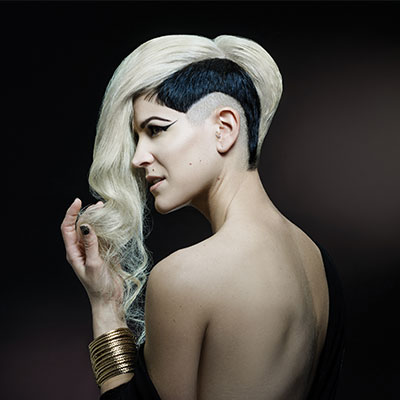 Model's starting level was a previously colored level 4 all over. The top section was lightened to a level 10 and the model was toned with Vero K-PAK Chrome demi-permanent crème color in V9 over the blonde and Vero K-PAK Color permanent crème color 1N for the darkest area. I was very lucky that she was willing to do just about anything so decided to give it different dimension with her shaved part! Add an amazing makeup artist and photographer and voila!