JOICO knipt voor haar en steunt

JOICO knipt voor Think Pink om het "Geef om Haar" en het "Share your Care" fonds* van Think Pink te steunen in oktober, de nationale maand die in het teken staat van de strijd tegen borstkanker. Think Pink is de nationale borstkankerorganisatie en zet zich dagelijks in voor borstkankerpatiënten en hun familie. Think Pink vraagt meer aandacht voor borstkanker en financiert wetenschappelijk onderzoek dat de meest voorkomende kanker bij vrouwen bestrijdt.
Het doel is om in de maand oktober zoveel mogelijk te knippen voor Think Pink. Met alle JOICO partners willen we 250 staarten verzamelen! Als we dit doel halen, dan schenkt JOICO Belgium per staart €5,00 aan het "Share your Care" fonds, een totaal van € 1250,00. We hebben jouw hulp nodig!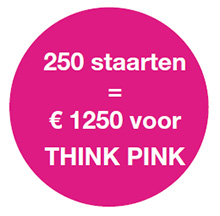 HOE KUN JE DEELNEMEN?
Maak een afspraak in de maand oktober bij één van onze deelnemende JOICO kappers en laat jouw staart van minstens 30 cm knippen. Voor de rest zorgen wij, samen met jouw kapper!
Hieronder lijst met deelnemende salons:
* Het Geef om Haar fonds helpt vrouwen bij de aankoop van een pruik of muts wanneer ze getroffen worden door borstkanker.
Het Share your Care fonds ondersteunt lotgenoten die getroffen worden door borstkanker en helpt hen tijdens de moeilijkste periode van hun leven met een fijne attentie, een verrassing, of een weekendje weg.