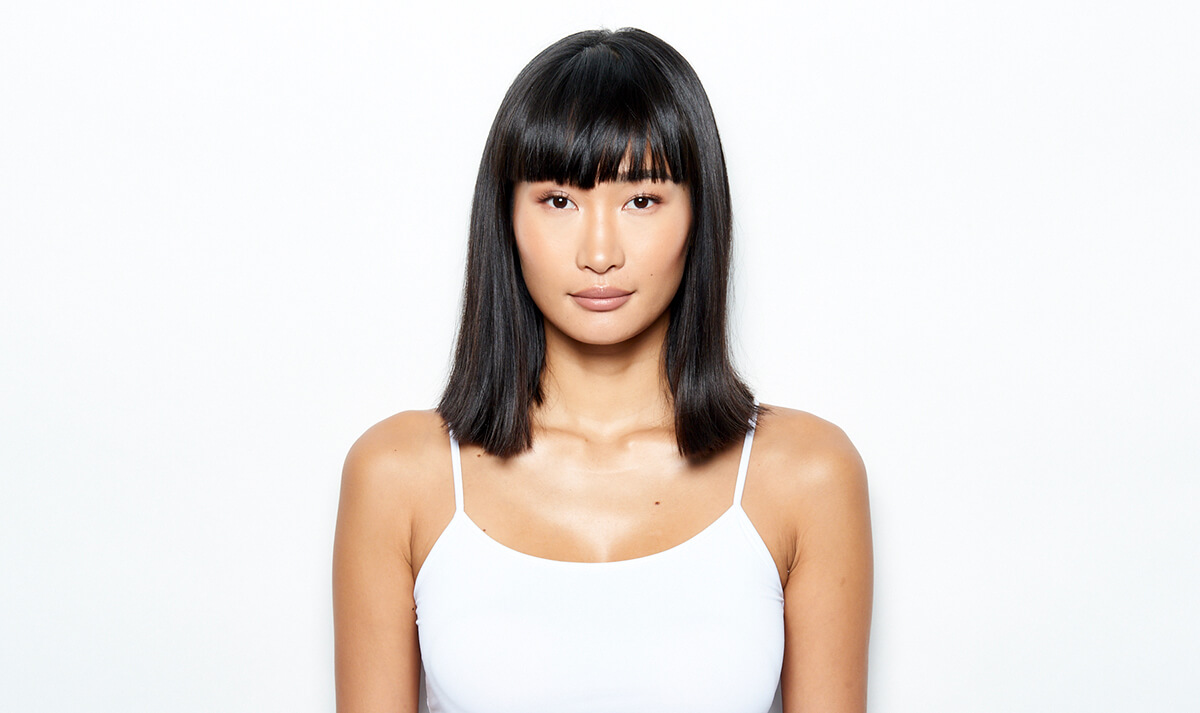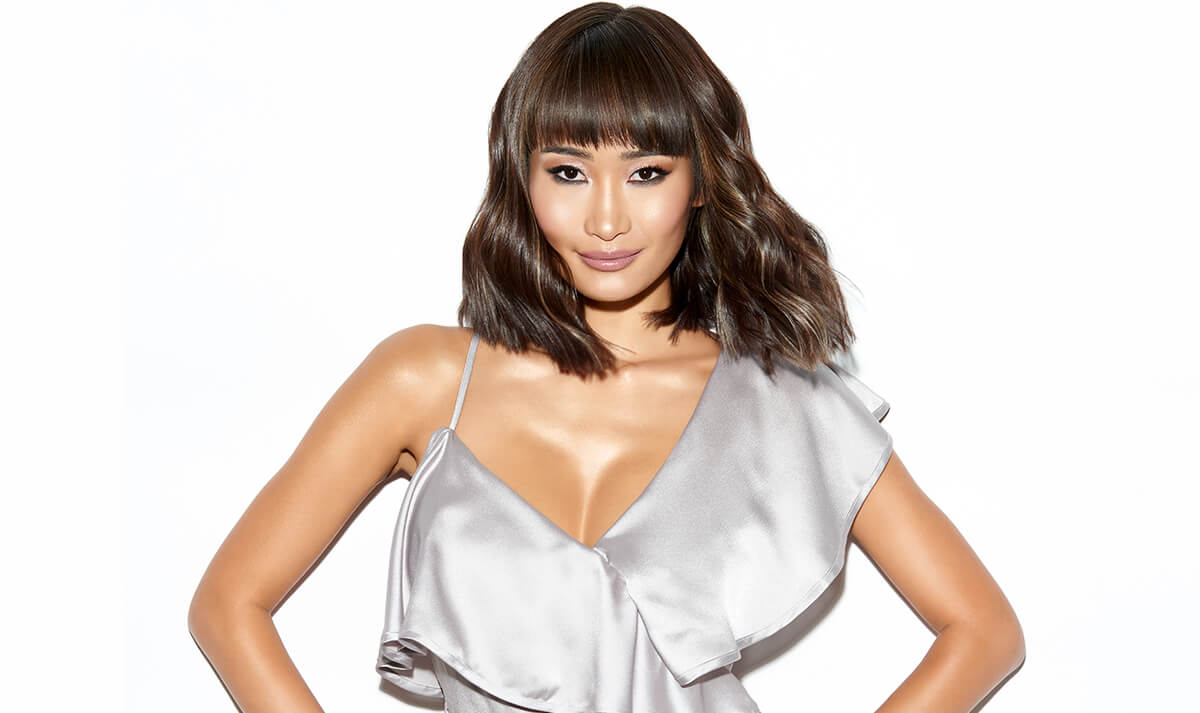 Cool brunette hair is a "mushrooming" trend – and easier than ever to create with LumiShine's NEW Ash-Ash Series, a collection of seven perfectly balanced shades featuring a green undertone, designed specifically to counteract the warmth of uninvited orangey/red tones. Watch Joico Brand Ambassador, Larisa Love, bring the collection to life with her new Ash-Ash "Prism Lights" technique – a subtle shade upgrade that oozes cool sophistication.
COLOR FORMULAS
Client: Miki has natural level 2, virgin hair

Prep – Defy Damage ProSeries 1: Bond-Protecting Color Optimizer Spray

Formula 1 – LumiShine Permanent Crème 5AA with 20 (6%) Volume LumiShine Developer

Formula 2 – LumiShine Permanent Crème 6AA with 30 (9%) Volume LumiShine Developer

Formula 3 – Blonde Life Powder Lightener with 20 (6%) Volume LumiShine Developer

Formula 4 – LumiShine Demi-Permanent Liquid 6AA with 5 (1.5%) Volume LumiShine Developer

Formula 5 – LumiShine Demi-Permanent Liquid 8AA with 5 (1.5%) Volume LumiShine Developer

Post – Defy Damage ProSeries 2: Bond-Strengthening Color Treatment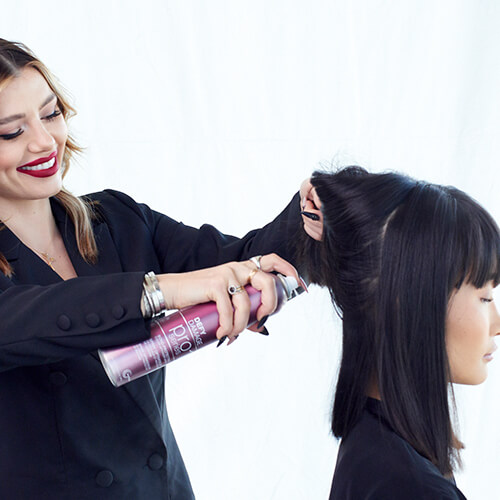 STEP 1:
Prep with Defy Damage ProSeries 1. Shake the can vigorously and then spray in short bursts to 2-inch sections and comb for even distribution. Make sure to spray away from the face for client comfort.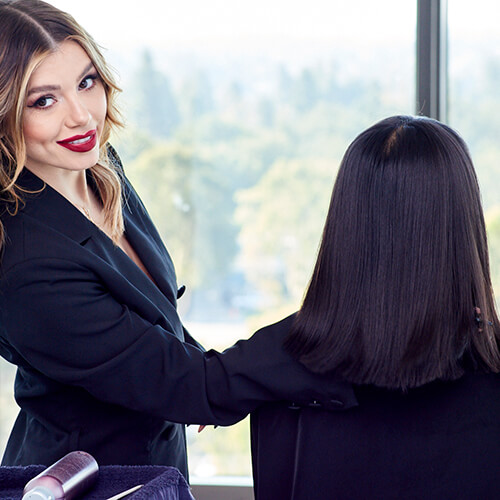 STEP 2:
Defy Damage works right away. you will see immediate shine and softness. ProSeries 1 is an easy 1 step spray that requires NO formula changes, NO mixing, NO developer changes and NO timing changes. This step will help provide greater and more even lift, greater and more even color deposit as well as make the hair 5x stronger while providing 80% less breakage.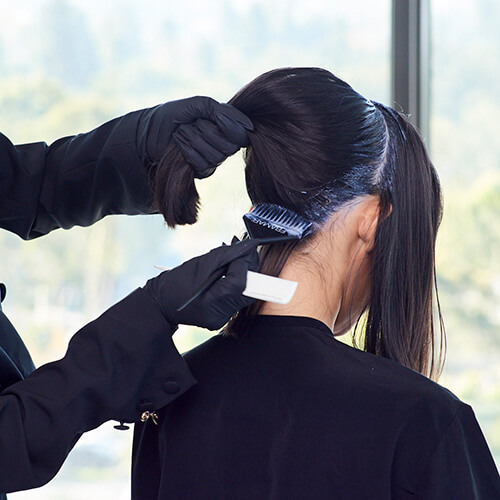 STEP 3:
Apply formula 1 to the base throughout the entire head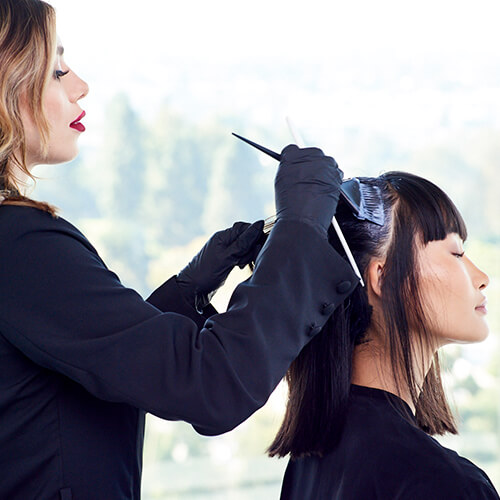 STEP 4:
When applying color at the front, make sure you take diagonal back partings so that all sections stay nice and clean and away from the face.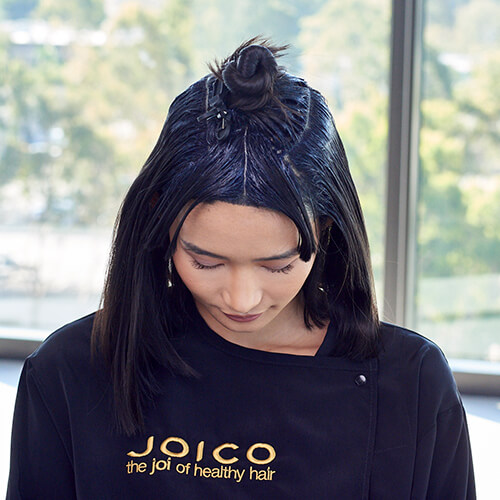 STEP 5:
Section a triangle out from the fringe. Take a horseshoe section out from the arch of the brows that extends below the crown in the back.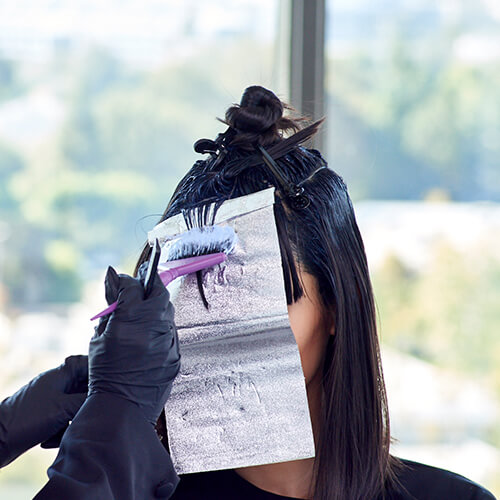 STEP 6:
Working on one side of the fringe at a diagonal, take weave partings and apply formula 3 below the regrowth formula through the ends.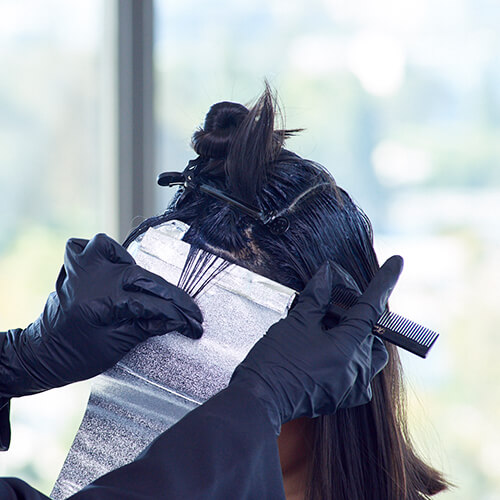 STEP 7:
Continue working with weave partings, adding babylights. The amount you add should be based on client consultation, hair type and density and the fringe length. Adding too many babylights on a short fringe will create spots or a banding look.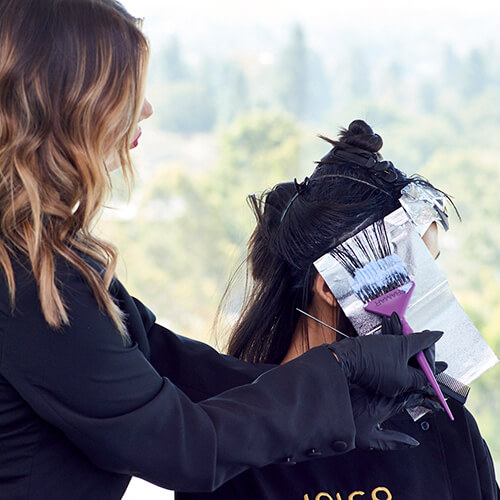 STEP 8:
Working with a fine weave parting that starts at the ear to the horseshoe parting, apply formula 3 from growth through the ends. Don't overlap the two formulas.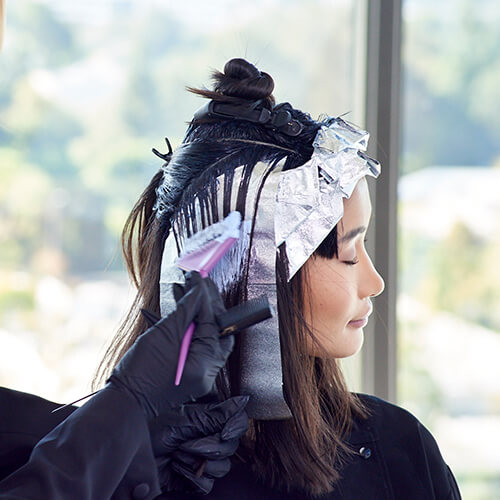 STEP 9:
Continue taking diagonal back weave highlights working off the horseshoe section.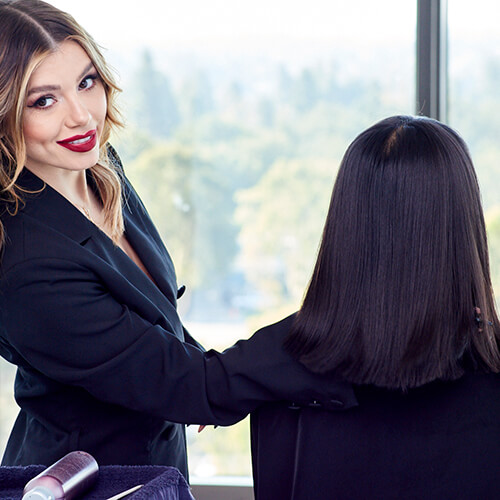 STEP 10:
Repeat on the other side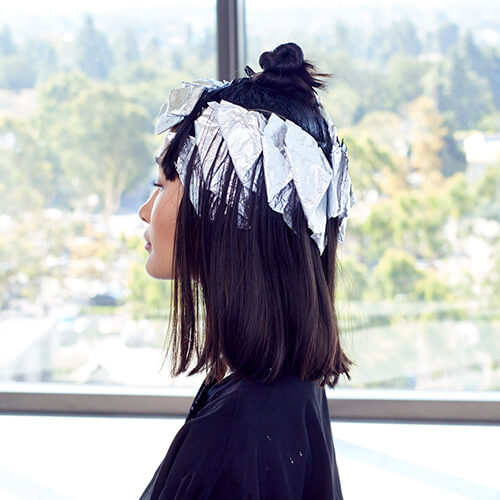 Finished Foiling Side View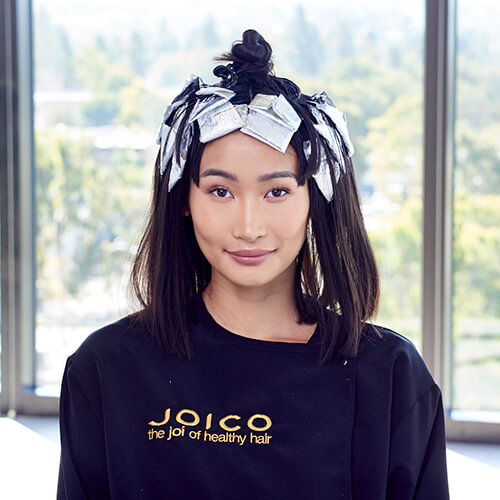 Finished Foiling Front View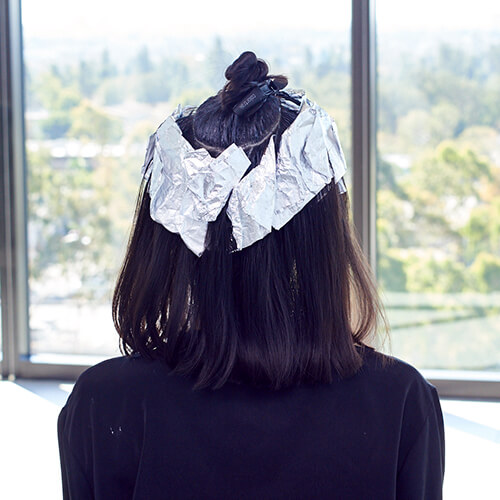 Finished Foiling Back View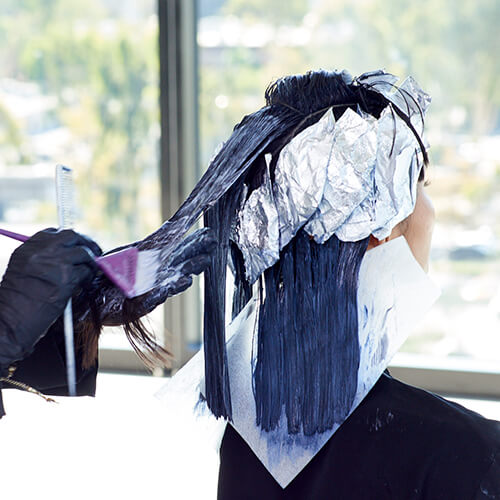 STEP 11:
Apply formula 2 to the rest of the hair melting into the base.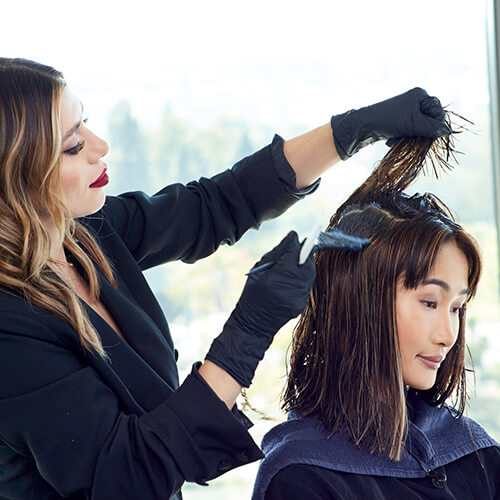 STEP 13:
Apply Formula 5 in a tear drop method and formula 4 through the mids and ends.